Tech Inspirations
ENEZA Education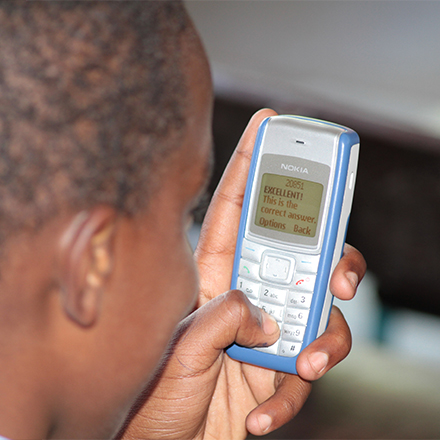 Need
Around 50 million students in rural Africa lack access to quality education. Often there are a lack of schools and a lack of teachers, so education has to be filtered down. Students do not have the ability to work at their own pace, either slowing down to really understand an area of difficulty, or accelerating beyond the classroom to expand their education. Additionally, there is no easy way to test a student's progress or level of education. Without tests, students have no way of knowing where they need to improve and what standards they should hold themselves to.
SucceedEneza Education provides educational solution for students, parents and teachers in rural Africa using low-cost mobile technology. In Kiswahili, "eneza" means "to reach" or "to spread". Eneza's mission is to make 50 million students in rural Africa smarter, giving them access to the information that will improve their intelligence, their general knowledge, and their lives. Eneza currently provides a virtual tutor and teacher's assistant, all available through SMS, web, or mobile web. Eneza's content is aligned to the local syllabus, and they enhance communication between the student, parent and teacher to create accountability for each student's performance.
By leveraging on the most common technology in Africa, the mobile device, Eneza provides content for students, parents and teachers. Their SMS product provides gamified quizzes & lessons for students, and students can also ask a LIVE teacher questions through SMS. The data of a student's academic progress is saved in the student's web account and made into a report, giving schools and parent's access to meaningful data and tips for helping their students. Teachers can assign homework to their students and receive classroom and administrative tips to help them run their classrooms and schools more efficiently.
Success Story As of December 2014, Eneza has served over 375,000 students in 5,000 schools in Kenya, and students have completed over 800,000 quizzes. After incorporating Eneza, students studied 2 more hours per week. An impact study conducted in 2014 shows that schools that utilized Eneza significantly increased their academic achievement—in just seven months the average increase was 22.7 percent! One of the schools, Nyweri, rose seven ranks higher in its sub-county school cluster from position 9 to position 2. While this improvement is satisfactory, Eneza expects more room for impact with the integration of Eneza's Teacher Product
Toni Maraviglia, Kago Kagichiri and Chris Asego are the co-founders of Eneza Education. Toni, the CEO, co-founded an educational organization WISERBridge in rural Nyanza, Kenya before co-founding Eneza. She has 9+ years of experience in teaching and managing teachers in the U.S. and Africa. Working with teachers and students in rural Nyanza, Toni witnessed firsthand the complexities of the educational access and quality in rural Africa, making her impassioned to do more. Kago, the CTO, started to code by the age of 7 years, and it only took him 3 months to create the first version of the Eneza system. He is a serial entrepreneur and an owner of an online hosting firm, MiliQi. In 2015, he also received special recognition on the Forbes 30 UNDER 30 Social Entrepreneur list for his work in educational technology in Africa. Chris, the Director of Operations, spent his whole life among educators. He graduated from Jomo Kenyatta University with a degree in IT, and has a keen eye for user experience, spawning from his consulting experience. After growing up in the slum area of Kenya, Kibera, Chris became intensely passionate about the provision of quality education for people living below $1 a day.