Tech Inspirations
Library for ALL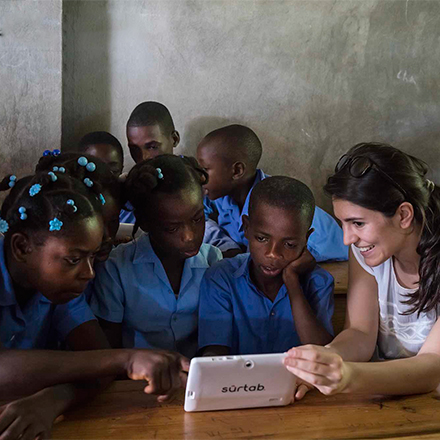 Need
The country of Haiti has experienced incredible suffering after the earthquake of 2010. Not the least of challenges was the destruction of schools, books, and other learning materials. In fact, hundreds of children might have just a handful of books to share between them. Not only that, but there are multiple languages spoken in Haiti, yet the books were not localized. Expanding beyond Haiti, children need to have relevant, localized content. The context needs to fit within their understanding, not just in language used but in topic areas discussed. Proper education is the key factor for those in dire circumstances to be lifted out of poverty. According to the UNESCO report in 2014, 171 million people can be lifted out of poverty if students in low-income countries have proper reading skills by the time they graduate primary school. However, schools in developing worlds usually don't have enough funding to buy conventional books and education materials for students, making this goal quite difficult.
SucceedLibrary For All The Library For All was launched in Haiti in 2012 after Rebecca McDonald saw how students suffered with the lack of access to books after the horrible earthquake Haiti experienced. Rebecca realized that she could help supply thousands of books through a digital platform, and to do so she raised over $110,000 with a Kickstarter campaign. After that, she built partnerships with content providers and local schools and organizations. Finally, the first library platform program that can be used at low cost for schools was launched in October 2013. The goal of Library for All is to increase literacy and support education in all subject areas by providing access to books with their cloud-based, device-agnostic digital library platform. Since Library for All is based in the cloud, users can access an unlimited supply of up-to-date content via mobile phone networks. Also, since their platform is device agnostic, it is accessible on a range of low-cost tablets and mobile phones. The digital library and educational platform was built with content from Open Educational Resources and publishers. It is designed for low-bandwidth environments using local network topology.
Success Story The organization's first Library "Member" is a school of 530 students called Respire Haiti, located on the outskirts of Port-au-Prince. The majority of the students are former restaveks, which means child slaves. The pilot library included a selection of books in Haitian Creole, French, English and Spanish, with a large selection of early readers from our first Creole publishing partner, Educa Vision. Many of the students had never seen books in Haitian Creole before, and students of all ages were delighted and fascinated by the library. The technology team also learned a great deal from the successes and challenges of the pilot, and continue to incorporate feedback into the development and design of the program.
To date, Library For All has launched in 10 school sites across Haiti and 2 in the Democratic Republic of Congo. In 2015, they have plans to expand to Rwanda and one other country in Asia. They are also planning to launch the platform for the feature phones and PCs in order to provide flexible education environment. Their long-term goal is to reach 5 million users by the end of 2017.
In 2010, after the devastating earthquake in Haiti, Rebecca McDonald, who had a successful career in the construction industry in Australia, was shocked to see people, especially children, suffering because of the earthquake. She sold all that she could, and moved with her husband to Haiti to help the restoration work. While she was there, she could see that children at school lacked access to books. Less than 30 books were being shared between more than 100 students and these books were being kept on lock because of their scarcity.
Taneyella Evans, a former voluntary teacher in Uganda and a consultant, felt the problem of lack of access to books while she was teaching there. Rebecca and Tanyella met in mid-2011 and they realized that they were seeking the same thing-- a solution to the lack of access to books in the developing world. While looking for solution to this problem, Rebecca came up with the idea of providing books digitally with device agnostic platform at low cost. In June 2012, Tanyella left her job and joined Rebecca to co-found Library for All. Now they are working as CEO and COO for the Library For All each, to improve access to books and knowledge for the children in the developing world.