Contributors
Nyaruka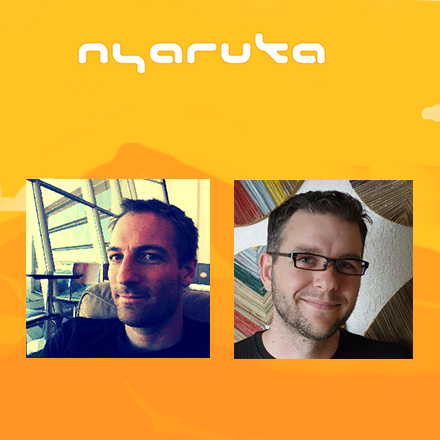 Need
An open platform that NGO program managers could use for varying outreach needs without the hassle of interacting with a developer.
Succeed
Nyaruka founders Nicolas Pottier and Eric Newcomer took their extensive experience in software, technology, and development and founded Nyaruka in Kigali, Rwanda in 2010. Nic and Eric decided on Rwanda because it was a country that was not only a hub of innovation but also was trying to built its own software sector. Because of the nature of the environment, they worked with a lot of NGOs to find solutions that could be addressed with mobile technology. They actually worked pretty early on with UNICEF through UNICEF's existing RapidSMS project in order to help them to build out a maternity health program in Rwanda. RapidSMS was essentially a Python library that facilitated the creation of applications that used SMS.
After their experience with UNICEF, they continued to build out similar systems using SMS for various NGOs. After working on several projects, they realized that they were building out very similar systems with subtle variations for each organization. This was inefficient for the developers, as the RapidSMS platform did not make it easy for NGO program managers to build out a specific SMS application based on their individual needs.
The team decided to address the challenge head-on. They built a turnkey solution that would allow NGO program managers to build out these applications instead of having to engage with software developers for each step along the road. That solution was called TextIt. TextIt would allow multiple NGOs of any size to benefit from the SMS solutions by creating a low barrier of entry. The team launched TextIt in September of 2013, and they had good traction right off the bat.
Multiple NGOs used TextIt for a variety of applications. Two examples were an NGO focused on youth training for skills development and an NGO focused on prenatal care. Through the use of TextIt, these NGOs could distribute questionnaires, remind about appointments, keep in contact, and provide information. The application made it easy for time-based evaluations and allowed managers to adapt the solution to their specific challenges.
Simultaneously, UNICEF was running into the problem of wanting to scale & distribute solutions that worked to programs in various other countries. While the programs had common themes, the specifics tended to be different, so the same piece of software would not work. TextIt solved that problem. Beginning in early 2014, UNICEF began working with Nyaruka again in order to adopt their TextIt solution. However, in order for the solution to work for UNICEF, UNICEF pushed the team to really build out the core offerings of TextIt.
Because of UNICEF's requirements, TextIt grew to become open-sourced, and added multiple new features, such as localization to multiple languages, mapping of results, richer API's that would allow managers to build out dashboards, and multi-channel support that would allow for voice and Twitter applications.
UNICEF then developed the improved application into RapidPro. By the end of this year, RapidPro will be fully open sourced, enabling the developer and development community to contribute to a public technological good.
Some of the ways RapidPro is creating an impact worldwide are:
U-report Nigeria: Engaging youth in dialogue on issues that matters most to them.
eduTrac Afghanistan: Remotely connecting teachers in Kandahar to monitor progress in the classroom.
mHERO Liberia: Connecting with Frontline Health Workers in response to the Ebola oubreak.
Polio Pakistan: Powering frontline staff communication and motivation to help eradicate Polio.
This is an example of an application that clearly demonstrates the potential to creative real impact through realization of the problem, creation of the solution, and effective scaling. We can't wait to see how Nyaruka continues to solve pressing needs around the globe.