Tech Inspirations
African Library Project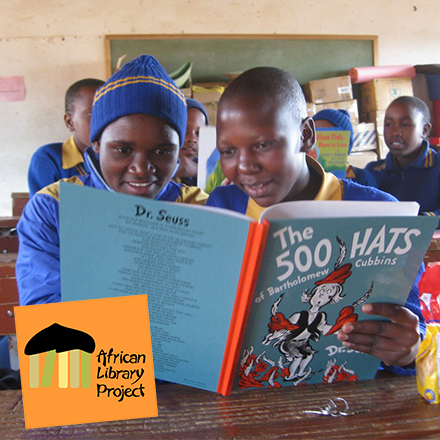 Need
176 million adults and 47 million youths in Sub-Saharan Africa are illiterate. In fact, Africa has the highest percentage of illiteracy in the world. Books are the key to increasing literacy, and literacy is the number one tool to pull people out of poverty. Yet while US bookshelves and landfills overflow with unused books, most African children grow up without any books whatsoever. Many African teachers teach reading, writing, math and English without even a single book to use as a resource, and many adult Africans lose their ability to read due to a lack of reading materials.
Succeed The African Library Project changes lives book by book by starting libraries in rural Africa. Their grassroots approach mobilizes U.S. volunteers, young and old, to organize book drives and ship books to a partner library in Africa. Their method makes a concrete and personal difference for children on both continents. In the United States, volunteers collect, sort, and pack gently-used children's books to ship to specific African communities. They organize book drives in local schools and neighborhoods and raise modest funds to ship the books to our African partners. In Africa, partners range from Peace Corps volunteers to school administrators. They receive the books and organize them into libraries to serve local African communities. Along the way, the U.S. donors learn about Africa and develop closer connections to the people in the recipient communities.
Success Story As of October 2014, the African Library Project has:
Completed 1,411 libraries in Zimbabwe, Zambia, Cameroon, Lesotho, Nigeria, Botswana, Swaziland, Malawi, Ghana, South Africa and Sierra Leone.
Created 1000+ partnerships with U.S. schools and other organizations.
Donated over 1.5 million books
Organized major conferences to share best practices among African Partners in 2008(Botswana), 2009 (Lesotho), 2011 (Swaziland), and 2013 (Malawi).
The African Library Project was founded in 2005 by Chris Bradshaw and her family from Portola Valley, California. During a family vacation of visiting remote villages in Lesotho (a small mountainous kingdom in Southern Africa), Chris decided to work towards ending the cycle of poverty and illiteracy. She realized that the simple act of establishing libraries with gently used books would have a profound effect in increasing literacy, and she worked closely with local teachers and community leaders to begin the African Library Project.