Tech Inspirations
Enviro Loo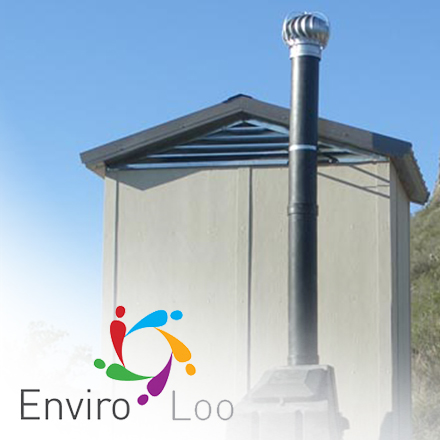 Need
With 3.4 million people dying each year from a water-related disease, the economic and social ramifications of poor or zero sanitation is devastating families, communities, countries and continents. The sanitation crisis is worse in developing countries, where currently people are employing sub-standard, "make-do" solutions that have no regard for human dignity or the extent of this problem. There exists a severe lack of sanitary facilities, and associated environmental and social inhibitors facing rural and urban populations.
SucceedThe Enviro Loo The Enviro Loo is a waterless, on-site, dry sanitation toilet system that functions without water or chemicals. Designed and manufactured in South Africa, the Enviro Loo functions as a convenient, economical and safe (environmental and health) solution to the mounting worldwide pollution and water challenges. It is designed for the benefit of all communities, and can be installed almost anywhere.
The Enviro Loo system is a cost-effective, respectable, hygienic, and environmentally friendly sanitation system that satisfies the dignity of all users. Extensive testing in Aids/HIV clinics in South Africa has proven that the ELOO® can handle human waste treatment safely and effectively in some very extreme situations. At the end of the process, human waste is reduced to roughly 5% of its original volume, and is converted into an inoffensive, dry, stabilized material.
Success Story The Enviro Loo has been installed in areas of natural beauty throughout the world, including Australia, USA, South Africa and Canada, in order for large numbers of visitors to enjoy the environment without impacting it. Across Africa, tens of the thousands of schools and millions of learners have benefitted from Enviro Loo installations. These schools have installed affordable, safe and clean sanitation facilities that accommodate student attendance for all ages. With education, the learners will go on to actively contribute to the socio-economic development of the communities in which they live. The Enviro Loo is suitable for any geography and any climate. From the cold of Canada to the heat of Africa. From rainy England and monsoon Asia, to the vastness of Australia and the mountains of New Zealand. The Enviro Loo is weather resistant, environmentally responsible and its all in one self-assembly construction means it can be installed by anyone, almost anywhere, in any country
Dr. Brian E. La Trobe, a citizen, dentist, and research scientist in South Africa, recognized the need for more water-saving wastewater treatment many years ago. Qualified in chemistry and dentistry and having experience developing government and university programs related to water sanitation in South Africa in the 1980s, the scientist relied on his expertise to invent the Enviro Loo. Motivated by a desire to overcome the prevailing challenges in waste management systems in South Africa (which relied on unsanitary options including pit latrines or buckets and thus contributed to spreading diseases), in 1985 Dr. La Trobe began research and development into waterless and dry sanitation units. Dr. LaTrobe used bacterial and biological technology plus expertise gained in research and development of waste management to develop the Enviro Loo® Dry Sanitation System. Because the toilet uses no water or chemicals, it doesn't contaminate groundwater. And because it does not require electricity, it can be used anywhere. The Enviro Loo first went into production in 1993, and is now operating in 19 countries around the world.