Tech Inspirations
DryBath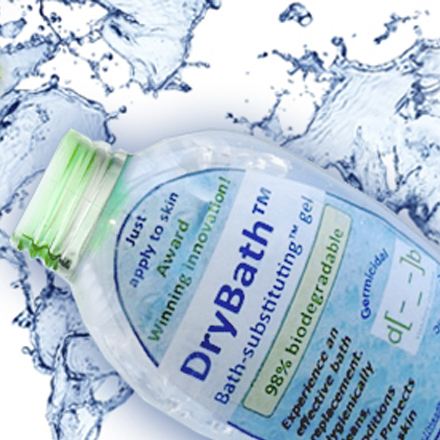 Need
With women across the developing world taking trips of up to five kilometers just to transport water to their homes, a small amount of water needs to be spread to take care of drinking, cooking, cleaning, and bathing needs. Oftentimes, a bath is a luxury that cannot be afforded. Yet the inability to practice proper hygiene directly leads to many diseases. In fact, diarrheal disease kills nearly 1.6 million children each year. Developing countries lose ~2% of GDP each year due to lost worker productivity from sanitation-related diseases.
Succeed DryBath DryBath is the world's first germ-killing bath substitution gel/lotion. It was created by Headboy Industries in response to water and hygiene issues to provide people with an effective alternative to bathing. DryBath is non-toxic, hypo-allergenic, and safe for the entire body. Simply by being applied to the skin, DryBath kills 99.9 percent of germs, moisturizes, and provides a clean scent. In addition to providing the destitute with an effective hygiene option, many affluent households are using DryBath, as it saves an average of 120 liters of water every time they skip a regular bath. It also provides corporate clients, frequent travelers mining companies, and hotel groups with a convenient and inexpensive hygiene option. Headboy Industries is currently working to sell DryBath to corporate clients, and for every unit of DryBath sold, the company will donate a unit to charity.
Success Story An 8,000 word business plan was written over the course of two months and completely done on Ludwick Marishane's cell phone. This business plan was sent to eighty venture capitalists but none were willing to take the risk on the young inventor. The business solution to get Dry Bath mass produced was to change distribution methods. Instead of large bulk containers of the gel it is produced in small sachets, a South African packaging innovation allowing the user to snap the package in half and then squeeze to deliver its contents
Ludwick is now working to develop additional products and advocated a No-Bathing Weekend for the world to save water in late September 2013. For every Dry Bath sachet ordered, the company donates a sachet to one of its partner charities. The company claims to have provided 445,590 baths and saved 35,647,200 Litres of water as of February, 2014.
Ludwick Marishane is the founder of Headboy Industries, an invention development and commercialization company that works to bring innovative ideas to market. He evaluates proposed ideas, researches new clients, generates funding, and manages the overall operations of the company, among other responsibilities. He also works for Google as the EMEA Campus Ambassador at the University of Cape Town, where he provides support and engagement opportunities for outstanding students in business, marketing, computer science, and other fields of study. Marishane has won numerous awards, including the 2011 Google Zeitgeist Young Mind Award. He is currently pursuing a bachelor's degree in accounting and finance at the University of Cape Town.