Tech Inspirations
Ecoloblue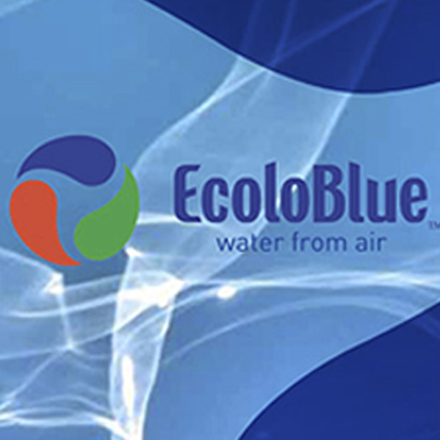 Need
Over a billion people worldwide lack access to clean water. While some have access to water that requires treatment, still others have no access whatsoever, unless they are willing to travel. In rural areas that have no access to water, women walk up to 5 kilometers a day just to bring water back to the village. Even then, there is no guarantee that the water is fit for human consumption.
Succeed EcoloBlue is dedicated to offering a sustainable product line of state-of-the-art atmospheric water generators that extract humidity from the air itself and then deliver filtered, purified water. The EcoloBlue product line of Atmospheric Water Generators (AWGs) creates sustainable, unlimited pure drinking water from humidity in the air. The only water source required for these machines is the air itself, eliminating reliance on any municipal water system, well or lake.
Founded in 2007 by Wayne Ferreira and Henri-James Tieleman, EcoloBlue now has more than 9,000 customers in the United States and more than 20 distributors worldwide. They have also been promoting their new emergency product called ACE, a self-contained system that has a generator, AWG and bottling line all in one.
Success Story EcoloBlue's AWGs have established hope in the midst of the California drought, 2014. The Monterey Peninsula Water Management District (MPWMD) Board of Directors voted to approve the use of EcoloBlue AWGs as a sole source of water for commercial and industrial properties. This is a historical moment, as this is the first time a water district in the State of California has approved this technology for use as an alternative water source.
Wayne Ferreira, a native of South Africa, was a professional tennis player from 1989 to 2004. While on the pro tennis circuit, Ferreira became acutely aware of serious water issues in the countries where he was playing and was especially concerned about the discarding of plastic water bottles by tennis players and fans. He was introduced to the concept of an AWG in 2004 and made it his new mission to bring this concept to the marketplace. In 2007, Ferreira's mission became realized when he teamed up with Henri-James Tieleman, a former professional tennis coach he met while on the pro tour. Henri-James Tieleman graduated from Bentley University with a bachelor's of degree in business administration and management, a certificate of special studies in business administration and management from Harvard University and an EMBA from the Olin Business School–Washington University/Fudan University in Shanghai, China. Tieleman's professional experience is broad, diverse and successful. In addition to being a former professional tennis coach, he has also been involved in founding a designer sportswear company in Milan, Italy, and served as Vice President of European Operations for Internet-based long distance company, Global Exchange Carrier, Inc., before going on to launch EcoloBlue with Wayne Ferreira.