Tech Inspirations
Husk Power Systems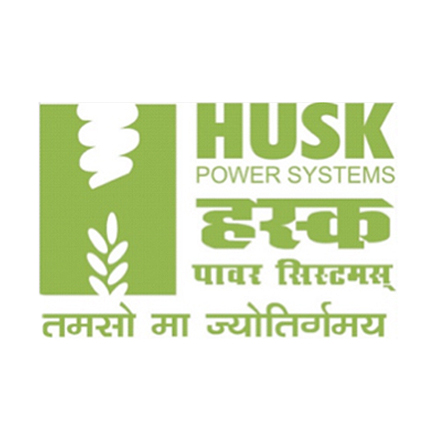 Need
1.6 billion people around the world live without access to electricity. Bihar, India, is one such place that is experiencing stagnation in economic development due to a lack of electricity. Businesses have to close early, children cannot study, and people do not feel secure to leave their homes at night. The staple food of the community is rice. Yet the husk, a waste product of rice milling, is of no use. Finally, 8.3% of the workforce in Bihar is unemployed. This is 2.5 times more the national average of unemployment.
Succeed Rice is the staple food for the people of Bihar, India. However, its husk, a waste product of rice milling, is of no use. Gyanesh Pandey saw the potential to use rice husk as a fuel in micro power plants to produce electricity where there is no power grid. The technology he uses is biomass gasification that produces gas that runs generators to produce electricity. After a year of production through his NGO, Samta Samriddhi Foundation, he started the company Husk Power System (HPS). The goal of HPS is to meet energy needs of rural households through a micro-grid system by providing cheap, sustainable and eco-friendly electricity.
Success Story Currently, HPS has 90 mini-power plants in Bihar. Each plant serves around 400 households, saving approximately 42,000 litres of kerosene and 18,000 litres of diesel per year, significantly reducing indoor air pollution and improving health conditions in rural areas. HPS has lighted 400 villages and directly employs 375 local people. By extending village life beyond daylight hours, HPS promotes economic development by enabling businesses to stay open after dark and allowing children to study at night. HPS creates an ecosystem around each plant by providing income generation opportunities to local farmers and entrepreneurs. Additionally, it creates employment through its livelihood programmes such as the incense stick manufacturing program which largely employs women. HPS has sponsored 250 children in private schools. They have even set up a Husk Power University to train the rural workforce for jobs.
Gyanesh Pandey is the Founder, CEO, and CTO of Husk Power Systems. His role is as the visionary of the team, as well as the leader of technical innovations and R&D. Prior to establishing Husk Power Systems, Gyanesh worked at International Rectifier as a Senior Yield Enhancement Engineer. Having worked with some of the oldest machines in the semiconductor industry to produce record yield levels at extremely low-cost across an entire platform, Gyanesh definitely knows a thing or two about reducing operational expenses.
An avid teacher, Pandey has more than a decade of varied experience teaching students from Junior High School to College. His penchant for tapping the psychology of the listener has proven to be a strong enabler in mobilizing the forces on the ground. In fact, his NGO, Samta Samriddhi Foundation, supports the education of over 250 children. Clearly, Pandey is focused on a holistic approach to development, where he not only can provide necessary electricity, but supports the livelihood of his community.