Tech Inspirations
Lifeline Energy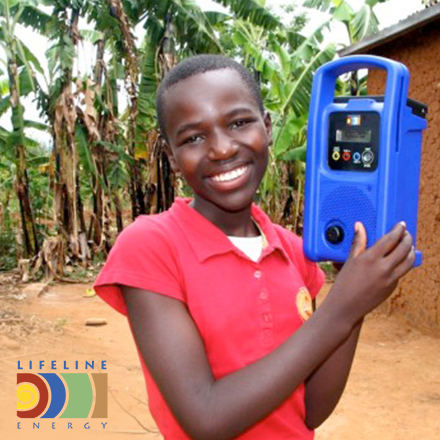 Need
Millions of children in developing countries don't attend school regularly or at all. The number of out-of-school girls is higher than for boys, and women account for more than 60% of sub-Saharan Africa's adult illiterate population. Despite the huge inroads made by cell phones and the Internet in sub-Saharan Africa, radio remains the primary means of communication. However, in most areas electricity is scarce or non-existent and the high cost of batteries makes them unaffordable to the poor. Important informational and educational programmes often do not reach the groups they are meant to benefit.
Succeed Lifeline Energy provides technology solutions for off-grid learning. Lifeline designs, manufactures and distributes solar-powered and wind-up media players and radios that operate anytime, anywhere. Despite the inroads made by computers, tablets and smart phones, radio remains the most important communication medium in Africa and in other parts of the developing world. It's not only effective, radio makes learning cost-effective, too. Operating mainly in sub-Saharan Africa, their work supports orphans and other vulnerable children, women, refugees and people who are ill. Since 1999 more than 550,000 wind-up and solar powered radios and media players have been distributed, chiefly in Africa. Millions of listeners have been reached, as classrooms of up to 60 children or listening groups use each radio or media player.
Success Story Although LifeLine Energy's footprint is mainly in sub-Saharan Africa, their products are used in many developing countries around the world. For example, in Ethiopia and Mozambique the Lifeplayer MP3s are providing English-language training, while in South Sudan they've been been pre-loaded with primary school curriculum to help children attain an education. Lifeplayers are being used to gain agricultural and market information for pyrethrum farmers in Rwanda. LifeLine Energy's solar and wind-up Prime radios are providing crucial information and education access in Kenya, Rwanda, Burundi and Zambia.
Kristine Pearson conceived the idea of the successful Lifeline radio, the first radio designed and engineered for distance education and children living on their own. Her innovative work with the Lifeline radio led her to be honored with Silicon Valley's prestigious James C. Morgan Global Humanitarian Award and TIME magazine named her as a Hero of the Environment. She is a fellow of the Schwab Foundation and serves on the Global Agenda Council's New Energy Architecture Committee, both of the World Economic Forum. Kristine serves on the Women's Leadership Board of the Kennedy School at Harvard University, the Global Alliance for Clean Cookstoves, and the UN Foundation's Sustainable Energy Practitioner Network.