Tech Inspirations
The Drinkable Book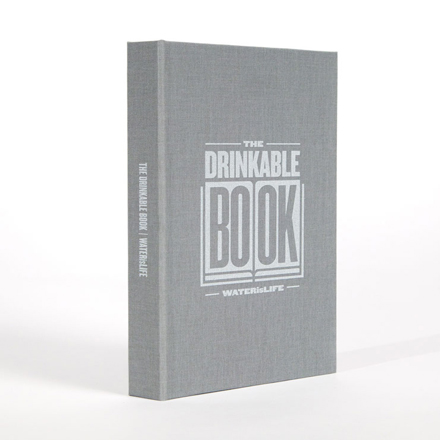 Need
Not only do over a billion people worldwide lack access to clean water, but most of those people do not have the education to understand the importance of clean drinking water and sanitary processes to ensure they lead healthy, full lives. Even if processes are put in place to establish clean water systems and piping within a village, that oftentimes does not change the habits of the community members, who might still drink unclean water and continue unsanitary practices that pollute the clean water supply.
Succeed Clean water can transform the lives of millions in crucial areas such as health, child development, quality of life, and ultimately the eradication of poverty. Following the invention of nanotech paper by Dr. Theresa Dankovich, she developed the NGO pAge Drinking Paper. The goal is to create innovative and affordable technologies using this innovative nanotech paper to reduce health problems in developing countries.
Their pilot project, the Drinkable Book, is both a water filter and an instruction manual for how and why to clean drinking water. This technology (pAge drinking paper) uses a thick, sturdy sheet of paper embedded with silver nanoparticles, which are lethal for microbes. They have proven to be highly antibacterial, and also meet US EPA guidelines for bacteria removal to produce safe drinking water. The team has recently teamed up with the nonprofit WATERisLIFE. The next step is to develop these filters for use in the real world. Currently, they are engaging with local communities in Ghana, Haiti, Kenya, and India in order to gather feedback about the product and to continue to educate the community about protecting and cleaning their drinking water.
Success Story Theresa and a team of students tested these filter papers with water sources in South Africa at the University of Venda. The organization is currently looking for funds to keep the effort growing. pAge is the paper in the Drinkable Book, and also will be available for other projects at some point. The filters can last a couple of weeks, even up to a month, so the entire books could provide the tools to filter clean water for about a year. It shows great promise, but is still a prototype and needs support for continued development before it is ready to be a commercially available product.
Dr. Theresa Dankovich invented the bactericidal silver nanoparticle paper, pAge, for her PhD in Chemistry at McGill University. She also invented a "green" method to produce these silver nanoparticles by using cheap and benign chemicals and processing. Following her Ph.D., she joined the Center for Global Health at the University of Virginia. As part of the Water and Health in Limpopo project, she traveled to South Africa to test her pAge papers over the summer of 2013. In South Africa, her team of students worked with the University of Venda and tested the pAge filters in the field, where they were indeed very effective in killing bacteria. Her partner, Dr. Jonathan Levine, is an earth and environmental engineer with a Ph.D. from Columbia University. They have been working with WATERisLIFE to fulfill their dream that the pAge water filters might supply cheap, clean drinking water for people in the developing world.