Tech Inspirations
World Reader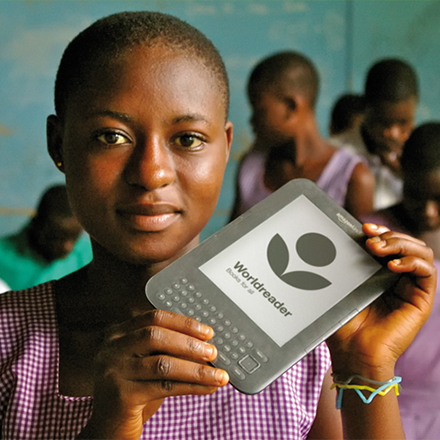 Need
There are about 760 million illiterate people in the world and 250 million children of primary school age who lack basic reading and writing skills. Still, 50% of schools in Africa have few or no books at all. At the same time, children who do have access to books often read foreign literature. The more relevant a student's first reads are, the more likely he or she is to continue reading. For books to be relevant, they need to be localized to the culture, and yet most times African authors are not represented in books provided to schoolchildren.
Succeed Worldreader is on a mission to bring digital books to every child and his/her family, so that they can improve their lives. Books are necessary for literacy and educational development, and still 50% of schools in Africa have few or no books at all. Wherever possible, Worldreader builds on digital platforms and mobile connectivity in the developing world to make their books available to children and families who need them the most. They provide e-readers to schools in need through both sponsorships and sales. They actively curate books by African authors. Finally, they help African authors and publishers translate and digitize their titles and expand their audiences.
Success Story Via its e-reader programs, Worldreader has delivered over 480,000 e-books, impacting nearly 10,000 children and families in six sub-Saharan African countries. Those children now read more, read better, and are improving their communities. In addition, through Worldreader Mobile―a book application―more than half a million people globally are reading a wide variety of books, including educational material, health tips, love stories, prize-winning short stories, children's books, and classics, all on a device they already own―their mobile phone.
David Risher founded Worldreader after visiting an orphanage's locked-up library during a year-long, 19-country teaching and learning journey around the world. David has been driving education and large-scale technological change for over two decades. As a general manager at Microsoft he led the marketing and development of Microsoft first desktop database; as Amazon.com's Senior Vice President for Retail and Marketing he was responsible for growing the company from $16 million to $4 billion in sales. He served for three years as Board Chair of Barcelona's Benjamin Franklin International School, is a longstanding member of ESADE Business School's International Advisory Board, and was elected Professor of the Year at the University of Washington's Foster School of Business.
Colin McElwee is Co-founder of Worldreader and focuses on business development, putting to good use his for-profit and non-profit experience across the globe. Most recently, Colin was the first director of marketing at ESADE Business School in Barcelona, where he helped establish the school's reputation as a world-class business education provider. Prior to that, he started his career as an economist for several Brussels-based lobbies to the European Commission, and later worked in global marketing in the consumer goods sector for Scottish & Newcastle PLC.